Are you someone who is interested in helping your local community and would like to be involved with a group of people who feel the same way?
You may not want to become a member of a club where you could get involved in regular meetings, maybe you have an expertise that could be used to help other people, our Friends' club was formed for people like you. We are linked to the Rotary Club of Bognor Regis and we support the work they do in our community. We do not however just do what they are working on, we have our own projects and community.
We are not looking for a huge amount of your time, you choose what to be involved in and decide what committment you want to give. Here is an example from one of our members:
"When I took early retirement I thought that all of my experience in dealing with people who where looking for a job would no longer be required. It seemed rather a shame and so I was intrigued when an old friend told me about helping at mock interviews at a local school.
I am not a Rotarian, but my friend told me that the local club regularly helped at the two secondary schools in the town. I contacted the club, became a Friend and I now regularly help out.
It is not too demanding on my time. I meet some interesting young people who I hope gain something that will help in the future by talking to me.
Thoroughly recommend this experience to anyone with a bit of time on their hands."
There is no cost involved in joining our group, anything you get involved in with us is fully insured, the only committment is your time. SO WHY NOT JOIN US TODAY?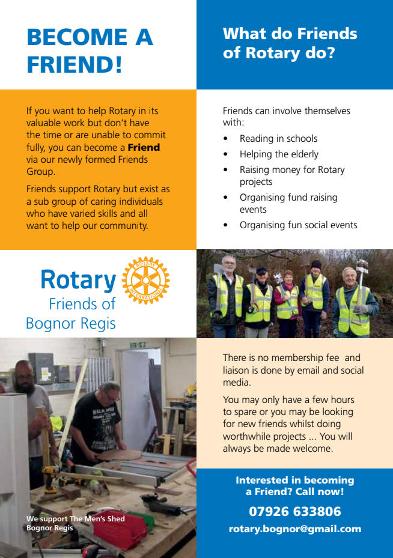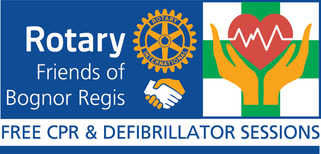 NEXT TRAINING DATE
PLEASE EMAIL US AT rotary.bognor@gmail.com
TO BOOK A SEAT
BECOME A FRIEND!
Rotarians are people of action and we look to do more to support those in our community who need that helping hand. With our involvement with so many and varied local organisations we would welcome more people to join our Friend's Group.
Please fill in your details so we can link you with our Rotary Friends: